One of the most enjoyable ways to experience the Norman Way and the beautiful landscape of South Wexford which surrounds it is by cycling from site to site on a bike. You'll travel across an ancient landscape filled with quiet country villages and lush green roadways as you move from one authentic medieval treasure to the next.
Rosslare Europort lies at the eastern end of the Norman Way and is less than a 25 minute cycle from Lady's Island. This makes the Norman Way ideal for cyclists travelling via ferry from the UK and continental Europe.
Many of the sites along the Norman Way have bike racks and benches installed at them.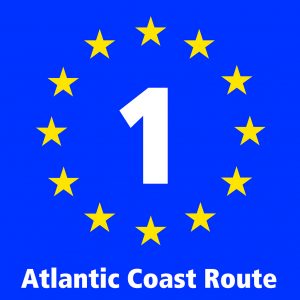 The Eurovelo 1 Atlantic Coast cycling route actually follows the course of the Norman Way. (The Norman Way also has some alternative routes for those travelling by car to ensure the quality of the Eurovelo route for cyclists.) 
Find out more about the Eurovelo 1 route here.
View an Arc GIS map of the Eurovelo 1 route across Wexford here.
–